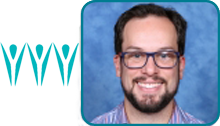 Wade Fairclough is a Science Teacher of both senior and junior students at one of Sydney's largest high schools.
He assisted in the establishment of the Rite of Passage Boys' Program within the school which aims to re-engage and support at-risk boys. Through the program, the team has conducted overnight camps, treks and Challenges to help develop resilience, self-esteem and encourage positive masculinity. The program runs physical challenges that last between six to twenty-four hours with ex-special forces operatives to develop self-awareness in the boys.
Wade has worked as the coordinator of the Student Representative Council assisting in in developing welfare and fundraising initiatives throughout the school and community. He has assisted with a number of welfare initiative to help raise $19,000 for charities.
He liases with students, classroom teachers, school counsellors, and senior executive members to determine the most appropriate course of action to help individual students at risk and has created resources to assist parents in developing positive skills for their children.
Wade has formed partnerships between major home entertainment outlets, charities, and school executive members to assist disadvantaged students continue with their studies.
He is a Qualified Rock & Water Instructor which is a psycho-physical social competency training program. Wade presented at the Transitional Adviser Training for Robert Lawson at the State Office in Senior Pathways.