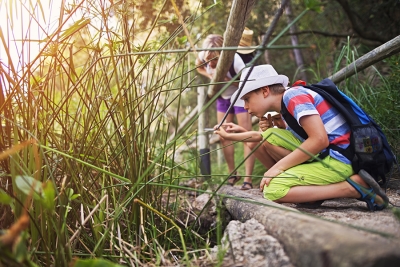 ---
For WA QLD & NT Teachers Only*
Due to the restrictions in place to combat COVID-19, Kath is unable to present this workshop in person. However, we are excited to announce that the workshop will go ahead as an interactive, online event. Not only will you deepen your understanding of inquiry as an approach to teaching and learning, you will also have the opportunity to experience ways to bring an inquiry approach to online teaching – a skill set many teachers are now having to strengthen.

Designed for teachers of students 5 – 12 years old, this workshop will address the same elements outlined in the original advertisement:
Why use an inquiry based approach?
How can we adopt an inquiry 'stance' in our teaching across the day?
What is the role of the teacher in the inquiry classroom? Where does 'explicit teaching' fit into the picture?
What does inquiry learning 'look like' in the classroom?
How is the inquiry classroom organised? How to we curate the space?
How can we use an inquiry approach while remaining accountable to the curriculum?
What does an inquiry based lesson entail?
How do we collaboratively plan/design extended journeys (units) for inquiry learning?
How can an inquiry approach help us make connections across the curriculum?
What strategies can we add to our repertoire to strengthen our inquiry-based teaching?
How will the online seminar work?
While we will address the same content as a 'bricks and mortar' workshop, learning together online IS a different format. Some of the key differences include:
A smaller group. You will be working with around 25 participants to ensure engagement, participation and accountability. In many ways, the experience is more personalised
Shorter sessions with more breaks. Online learning is intense! We will break the day up with small breaks
Some pre-reading and an opportunity to share questions ahead of the day: this format allows Kath to tailor the workshop more specifically to the needs of the group
Follow up. Unlike a 'bricks and mortar' workshop, Kath will provide an opportunity for you to reconnect with her in a follow up sharing and Q & A session 2 weeks after the event.
Participants will still engage in practical tasks and interact with others in the group
Resources will be shared with participants prior to and during the workshop. Participants will also develop resources together that will be available following the workshop
Proposed Overview of the Day

8.45 am (Perth time) – technology check! Zoom meeting begins and we check vision, sound

Session 1: The Inquiry Classroom
9.00am-10.30am Session 1 (includes 10 minute break)
Setting the scene
What do we mean by 'An inquiry approach'?
What skills and dispositions are at the heart of this approach?
What is the teacher and learner's role in an inquiry based environment?
Why is this a powerful approach?
Morning Break 10.30am – 11.00am
Session 2: Pedagogy and Inquiry
11.00am – 1.00am (includes 15 minute break)

Our focus will shift to pedagogy. Kath will share the 10 practices that TEACHERS use when they use an inquiry based approach with examples of each. What beliefs are these practices based on?
What teaching practices are used in an inquiry based classroom?
What are some of the practical strategies that assist learners to be more independent inquirers
How can these practices help us design powerful, inquiry based lessons?
(In this session, participants will work in small groups to design inquiry based lessons together – ready to share with others)
Lunch Break 1.00pm – 2.00pm
Final session: Designing (Planning) for Inquiry
2.00pm – 3.00pm

What are the 'types of inquiries' we can include in our planning?
Spontaneous, mini inquiries
Shared, sustained inquiries ("units")
Personal inquiries (iTime, discovery time)
What is the role of the inquiry cycle and how can we use it to help us plan shared inquiries?
Kath will share an overview of the inquiry cycle and the link to the curriculum. She will go through the cycle stages.

Reflection, Q and A and Action Planning*
3.00pm – 3.30pm

*Teachers will be given the opportunity to attend an online follow up conversation 2 weeks after the workshop (date to be confirmed).

Art of Inquiry Cards | Inquiry based learning, Teaching colors ...
A Bonus Gift!
Teachers who attend this online workshop will also receive a complimentary set of Kath Murdoch's stunning 'Art of Inquiry' cards (valued at $33) to which Kath will refer throughout the day.

https://www.kathmurdoch.com.au/shop/cards01

Requirements
The workshop will be held on the ZOOM platform – which participants will need to download prior to the day
Tech support will NOT be provided – participants are advised to familiarise themselves with ZOOM prior to the workshop
All participants will access the workshop through a personalised code that cannot be shared
All participants will be required to use video and audio functions
Participants are expected to attend for the duration of the workshop


SO WHAT IS THE NEXT STEP … Places in this on-line workshop are strictly limited and only open to teachers from WA QLD & NT at this stage. Please enrol online immediately to book your place.
PLEASE NOTE*: If you are not a WA, QLD or NT teacher but are interested in this online workshop please email Suzanne at This email address is being protected from spambots. You need JavaScript enabled to view it. and we place you on the wait list.
Kath and I are super excited that we can still support your inquiry learning journey during this challenging time and look forward to hearing from you soon!
Kind Regards Suzanne
Register a Group & Save
Register 5 or more delegates and pay $230.00 per person